Super Rare KALEIDOSCOPE Doll House by Bozart Toys Plus Free Furniture updated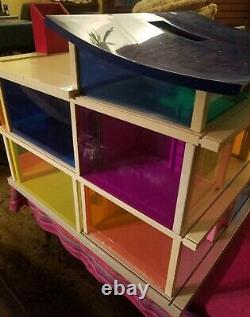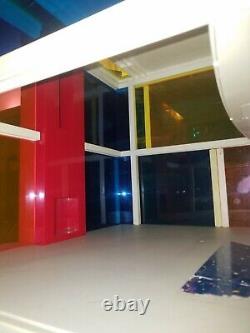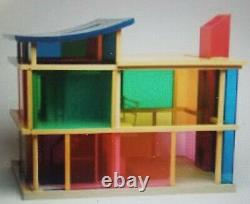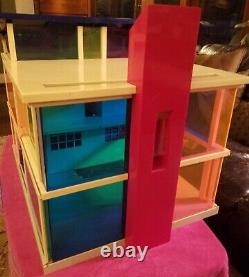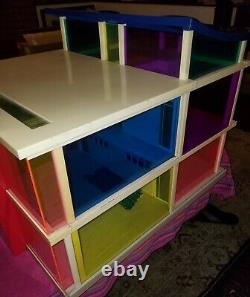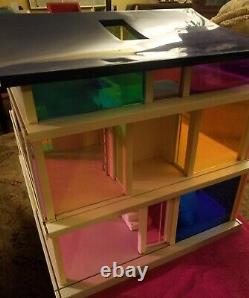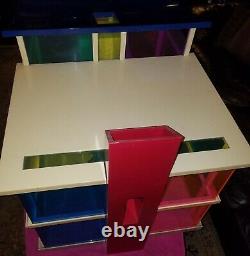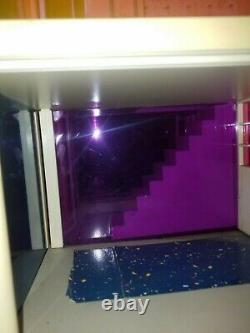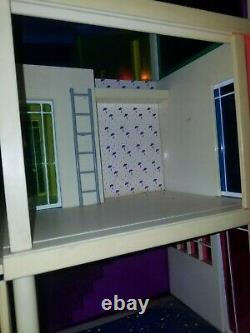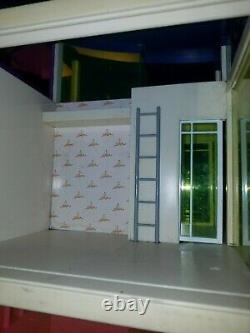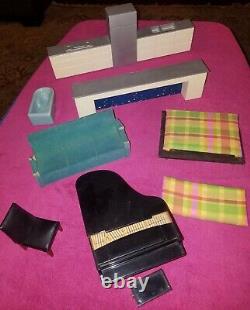 UPDATED please see small crack on bottom right of pink panel on image #4 UPDATED. Super RareSUPER LIMITED AND HARD TO FINDARCHITECTURAL DREAM DESIGN. KALEIDOSCOPE Doll House from Bozart Toys & Laurie Simmons. Includes Some Rare Hard to Find Furniture. Kaleidoscope Doll House by Bozart.
This house has working sliding colored panels BUT well loved and used. Includes some very rare furniture! Well worn sofa (part of curved arms missing and worn). This particular House has been loved and well played with by kids and adults living in a Mid-Century Usonian style home for the past 15+ years... Its time for the joy to move on to another loving home for years more of imagination and enjoyment!
Unassembled (unless local in SoCal, it can be delivered assembled). All colored acrylic panels in good condition (only 1 small crack on the bottom right corner of a pink panel - see image #4) - Roof has no cracks - white plastic post and beams have naturally yellowed a bit (see photos) - needs some TLC but has many more years of play and display in it. Great for the creative and active playhouse users, or the architect that wants a piece of history to display or spectacular motivation, or the modernist at heart who wants the pinnacle of design to reference, or the investor/collector who wants to resell. Will entertain honest offers with a warm story! Conceived and designed by Laurie Simmons and architect Peter Wheelwright.
The Kaleidoscope House, a collaborative project with Bozart Toys which produces toys with leading contemporary artists, is an interactive creative play environment for 6 year olds and above. The 1:12 scale modernist architectural house, with sliding transparent color walls, invites children and adults to fill it with an accessory line of modern furniture from contemporary furniture designers including Dakota Jackson, Karim Rashid, Ron Arad, Keiser/ Newman and Robert Kitchen. The house features paintings, photographs and sculpture by Peter Halley, Carroll Dunham, Laurie Simmons, Cindy Sherman, Mel Kendrick, Mel Bochner and realistic "action figures" of the artist, architect and family. As the interchangeable exterior walls of the dollhouse slide open and overlap one another, their colors change in hue and value.
The floor plan measures 22 x 28 x 24 inches. The Kaleidoscope House came out of our shared interests in domesticity and in particular the changing practices of home and family.
Our individual work in photography and architecture has focused on these issues, and the promptings of our respective children have often figured in our thinking. Clearly, there is a need for a new dollhouse in the family playroom. Our hope is that The Kaleidoscope House with its sliding transparencies and changing aspects will view give a colorful view into new playful possibilities. The Kaleidoscope House was designed by Laurie Simmons and Peter Wheelwright.
Peter Wheelwright, a New York architect, designed a number of homes for New York-based artists. Laurie Simmons is an internationally renowned artist and photographer who uses dolls' house imagery in her photographic work, addressing themes such as urban domesticity, entertainment and advertising. Larry Mangel, the founder of Bozart Toys, was a former private art dealer who decided to give good artists the chance to design better toys than those available on the market. Bozart Toys was established in 1996 to provide artists with an opportunity to design creative, educational, fun toys for children, but was taken over in about 2004 by another firm. Brightly coloured plastic house on three levels with sliding transparent doors designed for creative interactive play.
The structure is basically white with blue, pink, green, yellow sliding panels. The chimney stack is red. Half of the roof is an attic with a blue concave roof looking out on a flat white roof top.
A floor to ceiling room occupies half the interior and serves as a dining and sitting area. Simmons, Laurie, born 1949 (designer) Wheelwright, Peter (designer) Bozart (manufacturers). Height: 61.5 cm, Width: 75.0 cm, Depth: 57.0 cm. My real interest was in simply updating the conventional dollhouse to get beyond the Victorian model or the fifties suburban model.
It seemed odd to Laurie and me that no one had ever thought to do this. The Kaleidoscope dolls house was a collaboration between photographer and conceptual artist Laurie Simmons and architect Peter Wheelwright. Already friends, who had previously collaborated on Lauries own home, Laurie and Peter both drew on themes of their professional practice to create a 21st century dolls house. The dolls house was commissioned by Bozart Toys, a company established by Philadelphia gallerist Larry Mangel. He used his contacts in the art world to develop a series of toys by contemporary artists, which were high quality, non-violent and well designed.
Laurie Simmons Laurie Simmons photography had explored domestic interiors since the 1970s. Using dolls house furniture and dolls in her constructed scenes, Simmons created images of 1950s housewives, who seemed simultaneously mistresses and prisoners of their pop-coloured homes. With the Kaleidoscope House, Simmons was keen to break the nostalgia of dolls house design and create something new.
Two collections of contemporary art were produced with the Kaleidoscope Dolls house. Laurie contributed one of her early dolls house photographs, to display in the dolls house she created. In her work Laurie has experimented with representations of herself, including a ventriloquist dummy made to look like her. The dolls for the Kaleidoscope House were modelled on Laurie Simmons, her daughter Grace, Peter Wheelwright and his son Matt.
A further series of dolls introduced Lauries other daughter Lena and friends. Peter Wheelwright Peter Wheelwright is an architect and teacher, renowned for his residential projects. When Bozart asked Laurie Simmons to design a dolls house, she approached Peter, who had previously designed her New York apartment. Peter has said, one of the subtle ironies about the Kaleidoscope House is that it was not really modern when it was designed in 2000. It was, however, modernist in that it took its inspiration from early 20th century Modernism.
The Rietveld Schroder House and the De Stijl group, in general, were the real sources of inspiration. He also makes comparisons with the pavilion-style homes of Johnsons Glass House or Mies Farnsworth House both glass box-like buildings which sit in beautiful surroundings.
The Kaleidoscope took from these inspirations a transparent, flexible and minimal open plan. In other ways however, the Kaleidoscope House is very much of its time and a response to the reality of life in 2000. As well as the literal transparency of the see-through walls, the house also suggests the technological developments that were blurring the distinction between public and private the internet, surveillance, and personal electronic devices. Peter and Laurie also wanted the Kaleidoscope House to respond to changes in social and family life, Single parents, two working parents and same-sex couples adding to the kaleidoscopic range of family structures in the 21st century. Peter also mentioned combining working and living in the home, open space domestic arrangements, shared parenting and domestic responsibilities, and the tendency not to overly infantilize children as was the case in Laurie and my parents generation. The Designer Furniture Over the last decade, the Kaleidoscope House has become a coveted collectors piece. Since it was produced in limited numbers, and broke the mould of dolls house design at the time, interest has only increased. The concept of collecting, though, was inherent in the house from the start, as a number of well-known artists and designers were commissioned to make artworks and furniture to complete the Kaleidoscope House. Curator kids Two art sets were produced for the house, giving children a selection of artworks from distinguished late-20th century artists to hang in the double height living room or along the mezzanine. Cindy Sherman contributed a photograph from her. Series, which she produced from 1977 to 1980. The photographs show Sherman dressed as different female clichés, printed as glossy black and white photographs in the style of promotional film stills. A contemporary and friend of Laurie Simmons, Shermans work explores female identity, performance and representation. Carroll Dunham is a painter and printmaker, and also Laurie Simmons husband.
A small version of his. Was produced for the Kaleidoscope House. Mel Kendrick is a New York sculptor who creates geometric forms using wood, metal, and more recently concrete. He made a wooden sculpture in 1:12 scale work specifically for the Kaleidoscope House.
Mel Bochner started his career in 1960s New York. As a conceptual artist, he works across media, including performance, photography and painting. Often his works concern words and letters. For the dolls house a reference to the scale of the miniature. In 1983 as part of a series called.
She collected images from magazines and advertisements, cut them out from their contexts, and photographed them against richly coloured plain backgrounds. Barbara Kruger has created some of the most recognisable and striking images of late 20th century art. Her black and white photographs combine with short, bright red slogans. Taking the form of a Chinese ginger jar, these sealed vessels, painted with commercial paints, have taken many forms and sizes across three decades. The vehicle of the title suggests McCollums idea that an object can never just be itself, but carries meanings of other things and ideas we bring with us.
In 1993, out of plastic and coated styrofoam balls on a limestone plinth. Magazine, Laurie Simmons described John in his studio as both bull in a china shop and kid in his own candy store His realm of distinctive objects resemble nothing else being made today. Dolls' house in brightly coloured plastic designed by Laurie Simmons and Peter Wheelwright for Bozart Toys of Philadelphia, U. Dolls & Toys; Children & Childhood; Architecture; Plastic; Dolls' houses; Interiors. The item "Super Rare KALEIDOSCOPE Doll House by Bozart Toys Plus Free Furniture updated" is in sale since Wednesday, December 2, 2020.
This item is in the category "Dolls & Bears\Dollhouse Miniatures\Doll Houses". The seller is "buynowa2z" and is located in Sierra Madre, California.
This item can be shipped to United States.
Type: House
Brand: Bozart
Custom Bundle: Yes
Modified Item: No
Style: Modern
Material: Plastic
Scale: 1:12
MPN: K-house-1
Features: Kit

---