Dollhouse Miniaturel 112 House wooden European Room Box Empty Room Display Box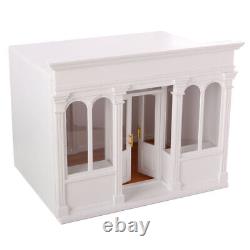 Dollhouse Miniaturel 1:12 House wooden European Room Box Empty Room Display Box. Material: wooden Brand: Supermini Product category: Miniature model Size: 13.78 " 9.84" 9.84 /35 25 25cm Color: white rear door, walnut rear door, white sunroof, walnut sunroof Adaptation suggestions: 1/12 doll.
Tips: It is limited to the use of models, and the slight defects of handmade products are not regarded as quality problems Non-children toys, please pay attention to avoid accidental eating or accidental injury of children This product is just a toy model, not for a real person. After you receive the item if there is any dissatisfaction, please do not leave a bad review, open a return, et. Thank you for your understanding. Cute and exquisite, this can make the dollhouse look very attractive and stylish. Dollhouses accessories are lovely decorations for your doll houses, table, book shelves, kitchens, dining rooms, living rooms, bars and other places, adding more fun and color for your daily life.
Well designed and crafted for your children to have the best house-hold compan ion for all day long playing. Rence due to manual measurement. Due to light and screen difference, the item's color may be slightly different from the pictures. Any inconvenience to you, please accept our apology. Any other question is welcome to ask through our excell.
Our customers possess the right to. Also, please note that a return on orders over 30 days old will be denied in any occasion. Ually 1-3, and we put 5 just in case. And it should be safely delivered within 2 to 3 weeks. During these days, no worry shall be concerned, so please sit back and wait for your package along the delightful sunshine and peaceful moonlight. You may keep track of your order at will. If any question or problem is raised during transition, please let us know and we will help till the end. Sometimes things can go wrong no matter what. We help in any problem, such as damaged goods, defective products, unclear descriptions, or etc. That you consider as a dissatisfaction, the door to our Custo. Mer Service is always widely opened for you. Please let us know how we can help if you needed. Yet please also notice that any collaboration needs time to reach a solution. For a delayed or lost package.
This process could take up to 14 days, so if the item is needed urgently, we highly recommend you to place another order. Our customer service will work this out with you in a quick manner.
In this case, please describe the issue as clear as possible. Pictures and videos can be extremely helpful and time-saving here.
We wish you understand the pressures here, and our effort will always come to your aid. Most of the accessories of the doll house are handmade, not machine produced. There may be flaws in some places, but it does not affect the appearance or use.
I believe that you who like dollhouses have a kind heart and are a caring person. Please do not open a return case lightly!
Please give us a chance to solve the problem and serve you. Long-term cross-border transportation may cause the package to be damaged or deformed, please understand.
Hope the doll house brings us joy and don't let the little things spoil your mood. In conclusion, I believe that communication can solve all problems, please give me this opportunity to communicate with you.

---