Doll House Kit, Dollhouse with Lights, Slide, Pets and Dolls, DIY Pretend Play Bu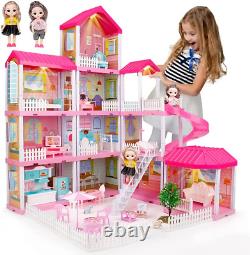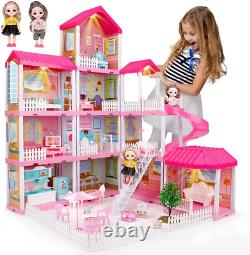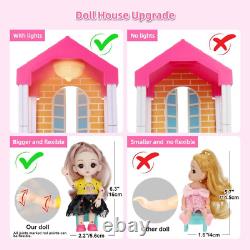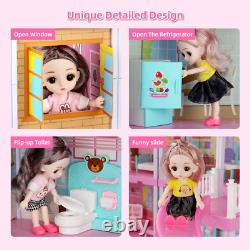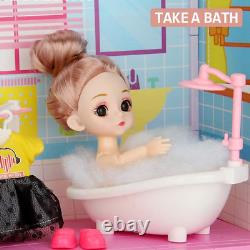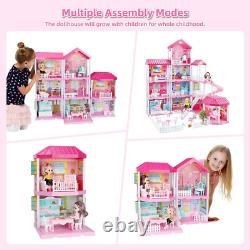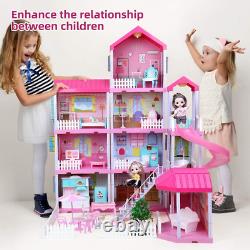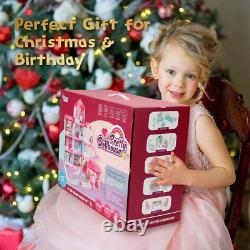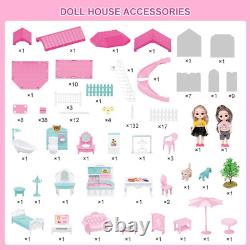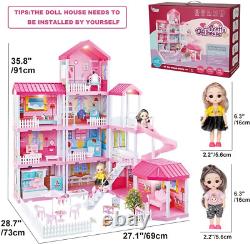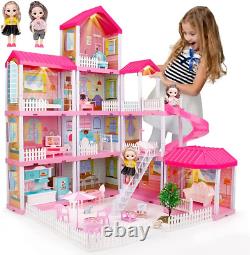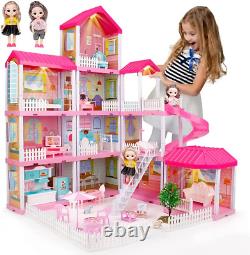 Open Sides Townhouse - The 4 story miniature townhouse is a semi-open design. There are 11 open rooms in the dollhouse, including bathroom, living room, princess-themed room, and dining room. It includes a slide, a staircase and 2 cute dolls. Open sides give kids access from the front and sides to dress up and role play with friends at the same time. Dollhouse Playset Size: 27.128.735.8.
Fully Furniture Accessories - Each room in the princess castle dollhouse has unique household items, including flip-up toiletsand, openable refrigerators and kitchen cabinet. Realistic doll house accessories and furniture allow children to role-play. 70+ furniture accessories can be DIY and placed at will offer tons of storytelling possibilities, and the girls can create a wonderful story for their own. Warm Lights and Upgraded Doll - The dollhouse is equipped with 4 lights (including batteries). The lights make the dollhouse warmer and more comfortable at night. And it is equipped with 2 upgraded dolls figures, with multi-angle twisting and bending joints, which can complete a variety of human movements.
Lights and doll add realistic touches and encourage toddlers to role-play. STEM Educational Toy - There are multiple ways to assemble the princess house and it is packaged with step-by-step instructions. Kids can build and take apart their own houses according to their likes and imaginations. It can promote children's creativity, cultivate their hands-on ability and stimulate their rich imagination.
And the cottage is large enough that multiple toddlers can play at once and enhance their friendship and language organization skills in the game. The Best Gift for Boy and Girl - The dollhouse club toy is made of BPA-free and non-toxic ABS plastic. The corners are smooth and burr-free. Let toddlers experience the fun of simulation games more safely.
Rich simulation miniature scenes that let children play the fun of imagination. Dollhouse is the best gift for little girls 3-12 years old for Christmas and birthday.
Every girl has a princess dream in her heart. Are you looking for a perfect gift that can complete the girl's princess dream? Our dollhouse is the best gift for girls of any age! Our doll house has 4 floors, nearly 36 inch high, with 11 rooms and slides. And each room is equipped with a variety of furniture and accessories, providing children with hours of exploration and allowing your children to decorate the room as they please. And the dollhouse is equipped with two dolls. Kids can create their own stories for the 6-inch dolls. This can promote children's creativity, cultivate their hands-on ability and stimulate their rich imagination.
It also allows kids and their friends to enhance the relationship in the game. The princess house comes with assembly instructions to make assembly easier. You can follow the instructions on the assembly step by step, or refer to the video in the link for assembly.
Product Size: 35.8" H x 28.7" W x 27.1 L. Packing Size: 13.4" H x 7.6" W x 17.2 L. Product Weight: 9.9 pounds. Tips: All the furniture and things shown in the pictures.
Dreamy Princess House for Girls. With the dreamy dollhouse, girls can create & imagine anything! The possibilities are endless in this amazing dollhouse that stands 36 inch tall and 27 inch wide. Move into the dollhouse & make yourself at home! Including 4 floors, 11 rooms, a slide and a staircase. A lot of furniture and accessories, including 2 dolls, 2 cute pets and so on. Using high-quality ABS material, smooth edges and corners without burrs.
With 4 light bulbs, that makes the doll house warmer at night. Realistic furniture includes an openable cabinet, refrigerator and toilet.
It has multiple assembly modes. The Best Gift for Little Girls of Any Ages. The dollhouse in addition to as a decoration and for children to play, the doll house can also cultivate the children's practical ability and imagination. The dollhouse has multiple assembly modes.
And the doll house is suitable for children of all ages and can be used for children to play in the next few years! And the dollhouse will grow with children for the whole childhood. At Christmas or your child's birthday, give it to your child as the best gift wrapped in a big ribbon, or quietly build a beautiful dollhouse to surprise your child. The doll house has 4 light bulbs, which can be turned on or off according to the needs of the scenario simulation. When the light is turned on, it makes the entire doll house look extra warm.
In the dark night, the dolls fall asleep accompanied by warm lights, and the children can enter the fairy tale world in their dreams. The doll is designed according to the real characters.
There are many joints on the body that can be moved to complete various actions of the characters. And the dolls have delicate facial expressions, and they are matched with exquisite clothing. So they can be used as the protagonist in the game, but also as a decorative collection for doll lovers. The doll house has a variety of living furniture accessories, including beds, dressing tables, movable hangers and so on. Furniture accessories are made of high-quality plastic, with smooth corners and no burrs, so you don't need to worry about children cutting their fingers when playing.
These living furniture accessories provide rich imagination space for children to decorate their own doll house. Role-playing, cultivate responsibility, housework skill and manipulative ability.
Identify color and size, letters, animals, and graphics. Enhance hand-eye coordination and strengthen early education knowledge.

---