Complete Kit New 1144th Inch Scale Southwestern Style House Kit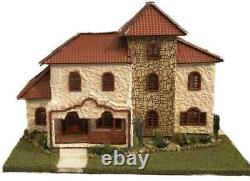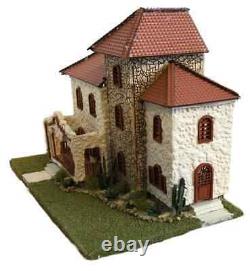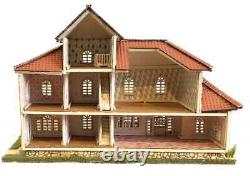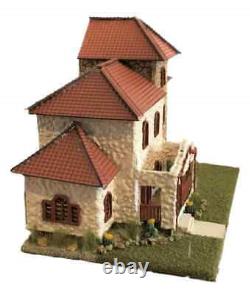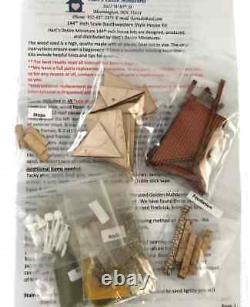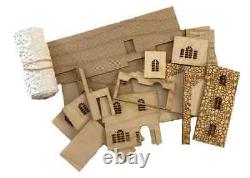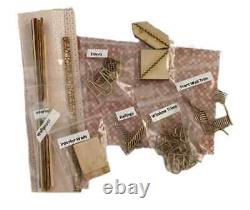 PLEASE READ CAREFULLY THIS IS NOT A FULL SIZE HOUSE. When assembled this little house fits in your hand. The Southwestern Style house features the classic stucco style including a stone tower.
We have included an assortment of cactus for the rock garden. This kit includes everything needed to finish the interior and exterior of the house.
It also includes 2 staircases, pre-cut tile shingles, & peel & stick tile flooring. The structural pieces are laser cut out of 1/16th maple hardwood. The kit includes the base, three floors that are etched to resemble hardwood flooring, The exterior materials exterior trims, Spanish tile roofing, & roof trims. The interior materials include wallpaper, baseboards, cove molding, and trims for the edges of the walls and floors. The kit also includes the staircases. Also included are all laser cut parts for doors & window frames. Landscaping materials include grass, sand, field grass, a bag of flowers, 2 sizes of rocks, & an assortment of cactus. The step-by-step instructions are detailed with diagrams and pictures. It is important to note that our house kits include everything you will need to complete the house as shown except the paint, tools, and glue. Finished size including base 5" wide x 2 7/8" deep x 3 3/8 high. Look for our 144th inch furniture kits.

---