Rolife 5Kit DIY 3D Wooden Miniature 124 Dollhouse LED Furniture Decor Xmas Gift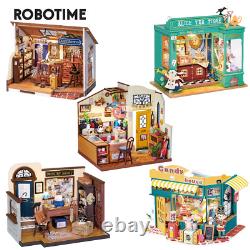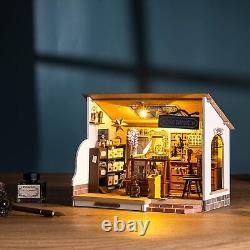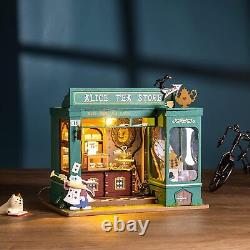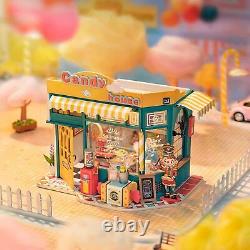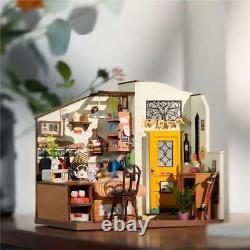 Rolife 5Kits DIY 3D Wooden Miniature 1:24 Dollhouse LED Furniture Decor Xmas Gifts? Kiki's Magic Emporium DG155? Material:Wood, Paper-cuts, LED light, etc. Alice's Tea Store DG156? Mose's Detective Agency DG157?
Magic is an everlasting theme of interest to both grown-ups and kids. Designed as a magic store, the miniature kit contains lots of magic elements: great volume of Magic Formula, wizard hat, magic crystal ball, a whole cabinet of herbs and bottles, tools with pentacles and eye patterns.
You can also add your own custom elements when crafting. Mini Alice's Tea Shop?
Inspired by Alice's story, this miniature house kit contains classic elements of the the adventure: rabbit, poker card elements, tea sets and sweets, pocket watch, the small door on the corner. What will come to your mind when talking about detective? Thrilling tracing and deductive reasoning? Sweet-flavour miniature world for candy lovers.
The miniature kit contains lots of sweets and gums and candy machine miniatures. Experience heartwarming, quality time in this delightful miniature dollhouse kitchen. This DIY miniature dollhouse kit captures the essence of a cozy and homey kitchen, perfect for creating cherished memories. The diy miniature dollhouse kit makes a vibrant corner for your room or office. You can put your figure dolls in it to create lovely scene.
With LED light, you can also use this as a night light at dark. The soft light will make people feel ease and safe. This diorama kit will be great gift choice for boys, girls, mom, dad, friends, especially those who love DIYs. Patience is the ultimate key to succuess.
This miniature house kit will make people fall in love with arts and crafts and feel fulfilled. Adheres to the concept of original research and development, focusing on DIY model play brand. Rolife adheres to the dialogue with the world trend with Chinese design, follows the lovely and independent spirit, expresses the life attitude of contemporary Chinese youth, and recreates the new ecology of Oriental art toys. Due to manual measurement, there may be a 1-3cm error in the size, thank you for your understanding.

---