COLLECTORS! Vintage Miniature Dollhouse 1937/39 BERKSHIRE by Rich Toys -Masonite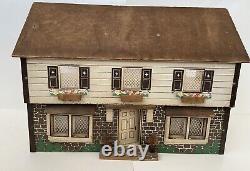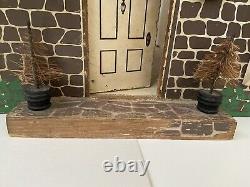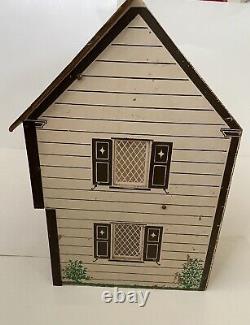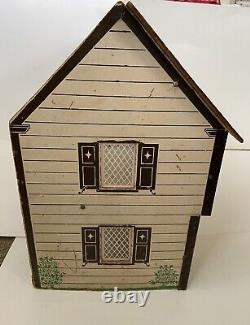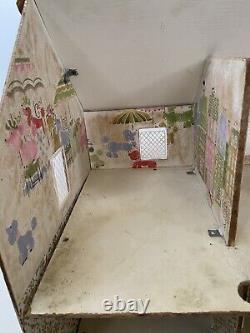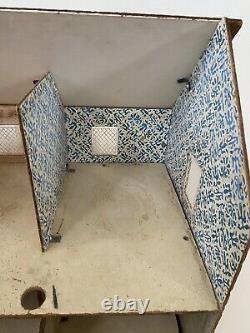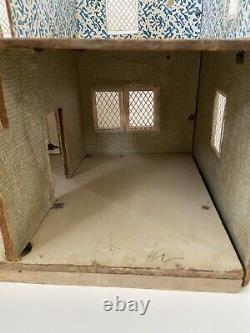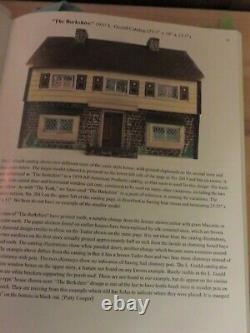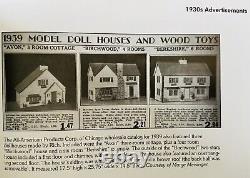 Vintage Miniature Dollhouse by Rich Toys 1937/39 BERKSHIRE 6 Room Masonite. This 1937/1939 "Berkshire" Dollhouse is truly a rare find and a perfect collectors piece for the vintage dollhouse aficionado.
Part of a family dollhouse collection and single family owners through the generations. There is some confusion as to whether this is a 1937 or a 1939 Rich Toys dollhouse.
It was found in both years of catalogs for Rich Toys. Very little information remains for the 1930s dollhouses so it is difficult to verify any further. Photos of the information found are in the last 2 photos. This dollhouse is in reasonably good condition for it's 82 to 84 years of age. It is quite rare is to find bottle brush trees that have actually stood the test of time and still attached to a dollhouse, as these are often quickly broken off and lost.
These bottle brush trees are in a bit of rough shape, but still attached to the porch. The masonite and the decorative paper attached definitely have marks, scratches, tears from years of play or storage. Please do review the photos carefully.
House Measures 25.5' L x 18.8 H x 12.5 D. It is missing one roof panel. It is missing chimneys (as seen in the old photos). The two bottle brush trees are damaged but attached. Porch is attached but loose.
The window panes and the window box flowers are r eproductions to match the original ones that came with the dollhouse. They are scans of the originals, made by a dollhouse restorer and as close to the original as it is possible to get. Front door is on hinges and swings open and closed, but does appear to be missing original door knob.
Minor wear on the wall designs. However, this dollhouse has never been taken apart in 80+ years so taking it apart would likely mean incurring a considerable damage risk to the masonite or decorative paper in loosening any screws or brackets.

---